VOLVO VOCOM II 88894000 V2.7 2020 (LAPTOP INCL.)
This new Vocom 2 interface is designed with focus on robustness and durability to withstand the tough workshop environment.
This item comes with a 12-month warranty. This item is a genuine Volvo, and not a Chinese clone. Buy with confidence!
VOCOM I INTERFACE VS. VOCOM II INTERFACE
Improved LED indicators
Improved quality of cables
Military standard on connectors
Better liquid and dust ingress protectors
Metal casing and rubber bumpers for better protection
Operates from -40 Celsius to +85 Celsius
Shock resistance: 2 meters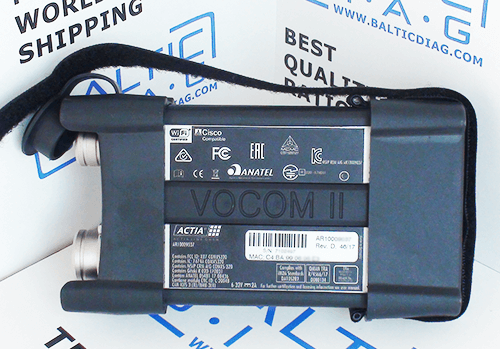 MOST POWERFULL SOLUTION IN THE MARKET
Newest and most fullest diagnostic software
Electrical Wiring Diagrams - FM, FH, FL, FE
Developement access - configure more than 11000 parameters of ANY level without any restrictions (APCI)
For example:
Minimum/maximum values like speed limit
Chasis ID Change
Injector programming
EURO 6 configurations available
Clutch calibration
And many more
Spare parts catalogs - for construction, trucks, marine. Matris, Impact, Prosis.
Software languages: English, Czech, Danish, German, Spanish, French, Italian, Magyar, Dutch, Polish, Portuguese, Romanian, Swedish, Turkish, Russian, Lithuanian and other.