AUTEL MaxiIM IM608 PRO + XP400 + G-BOX + APB112 - DIAGNOSTIC AND KEY PROGRAMMING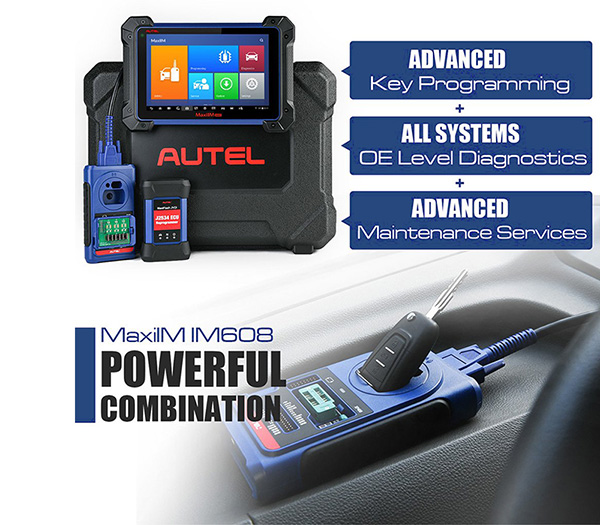 MaxiIM IM608 PRO
is the most advanced and unique all in one key programming and diagnostic tool that combines advanced key programming, all systems diagnostics, and advanced services in one Android based 10.1-inch touchscreen tablet. It is equipped with
XP400 PRO
key programmer and MaxiFlash ECU programmer to provide complete coverage of IMMO and programming functions.
IM608 PRO
provides you with all special functions to quickly diagnose all modules for the majority of the makes and models on the market. It is the unprecedented key programming and diagnostic tool that you ever wanted.
Read & Clear Fault Codes | Short description & code provided (can clear faults & warning lights)
Service Functions | Oil light / EPB / BMS / SAS / DAF etc.
Access Live Data | Data from the ECU/Module sensors displayed in real-time (Oxygen sensor-rich/lean etc)
Actuation/Component Testing | Actuate (switch on/off) to diagnose functionality (relays, fans, locks etc)
Coding Functions | Allows you to change vehicle parts that need to be "coded" (Injectors, ABS, starters etc)
Flashing/ Reprogramming | Advanced updating/coding of ECU's online through a J2534 pass-through flashing device
Advanced Key Programming | IMMO functions, Transponder read/write/identify, MCU/EEPROM chip read/write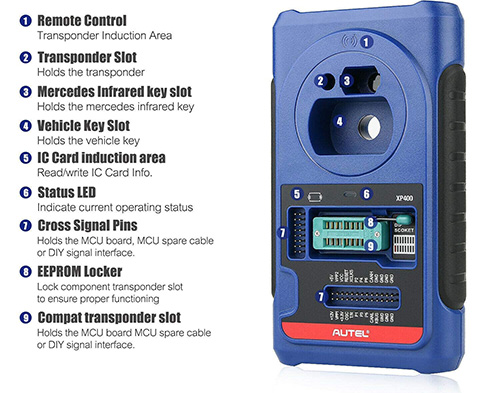 Expanded EEPROM functions for more component access
170+ types Odometer component reading functions
180+ Immobilizer ECU component types
40+ Engine ECU component types
2000+ MCU component types
440+ EEPROM component types
Compatible with IM508 and IM608
Includes 1-Year Warrant
G-BOX2
The G-BOX2 realizes fast mode on vehicle and bench when all keys for Mercedes-Benz vehicles using the DAS3 EIS/EZS are lost. The use of the G-BOX2 reduces the time needed and eliminates the process of insertion and removal. The G-BOX2 can read and access most engines manufactured by Bosch including EDS/ MEx17 series engines used in for BMW and for Volkswagen Vehicles. This capability supports the ability to perform adaptions when all keys are lost and engine is replaced. The G-BOX2 is compatible with the Autel's advanced diagnostic tablets support IMMO and key programming functions.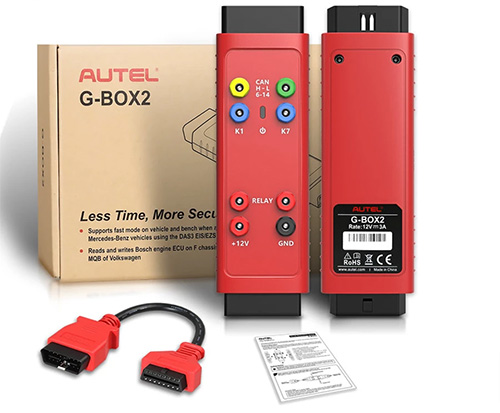 Faster password calculation for Benz All Key Lost
8X times faster password calculation for W172, W204, W207
4X times faster password calculation for W209, W211
No more repeated insertions and removals of IR simulator for 10 types of EIS
Passport reading for 9 type EIS when all keys lost on vehicle
BMW DME/DDE ISN reading for 20 types (EDC17, MEVD17, MSV90, MSD87, etc)
VAG ECM immo data reading & data synchronization for 18 types (MQB EDC17, MED17, etc)
XP400 may be required for certain functions
Support Mercedes All Key Lost BMW DME Reading
Compatible with IM608 & IM508
Read / Write Bosch engine ECU on BMW F classis
Benz vehicles with DAS3 CAN EIS/EZS in AKL
Read / Write Bosch engine ECU on VW MQB
Use in vehicle or on bench


APB112
Smart key simulator is used to collect the data sent from the ignition coil, aiming to identify the ignition coil troubles and decode the data of the vehicle key chip. It can also simulate the vehicle key chip. Currently, it supports to simulate the 4D type chip. More key chip types will be supported with future upgrades.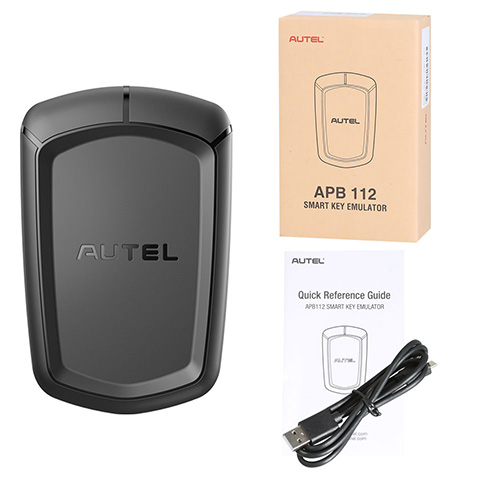 Smart Key Emulator
Chip Decoding
Compatible with XP400 for 4D transponder functions
46, 4D data collection
Smart key password calculation (Hyundai/Kia 46)
46 chip simulation
Toyota 4D (94/D4, 98) smart key emulation
Toyota H (88/A8, A9, 39) smart key emulation
Collects data from ignition coil
Identify ignition coil troubles
Decode vehicle key chip data
Simulate vehicle key chip (ex – 4D chip)
Must be used with an Autel diagnostic tool
Toyota/Lexus smart key all key lost
Chip decoding (Hyundai 46)
Read / Write Bosch engine ECU on BMW F classis
Read / Write Bosch engine ECU on VW MQB
Compatible with IM608
Use with XP400 for 4D transponder functions
Downloads
Quick Reference Guide - MaxiIM IM608 PRO.pdf