Jaltest or Texa - Which is Better?
16 Jun
0 Comment(s)
2881 View(s)
Are you a mechanic shop that works on heavy-duty engines and marine vessels? Then you know the importance of having high-quality and reliable diagnostic hardware and software. However, the market's high prices can make it seem impossible to see a satisfying return on your investment. Still, there are some options out there that can make your repair business successful.
Two of the top competitors in the market include Cojali Jaltest and TEXA. The BALTICDIAG team prepared a comparison of why to choose TEXA or Jaltest. Here is what you need to know about Jaltest and its competitor TEXA. 
But first, we want to introduce you to the brands:
Is a Spanish manufacture of components, advanced diagnostics equipment, solutions of predictive maintenance and remote diagnostics for commercial vehicle, agricultural and others.
The Spanish multinational Cojali was built more than 30 years ago in Campo de Criptana (Spain) and which has made possible the development of each and every one of our products.
A leading company in the design, industrialization and manufacturing of multi-brand diagnostic tools. Exhaust gas analysers, stations for air conditioning maintenance, and devices for remote diagnosis, for passenger cars, motorcycles, trucks, agricultural and construction vehicles, boats.
Jaltest or TEXA? How to choose?
TEXA and Jaltest Cojali both have excellent products. At the end of the day it becomes a matter of preference based on the equipment that you are going to be working on. Here is a breakdown of some of the capabilities for each:
Coverage by Machinery Type

 
Jaltest better supports on construction machinery;
Jaltest better supports on agriculture machinery;
Jaltest better coverage on marine;
Jaltest released version only for forklifts, it consistently developes and improves coverage and functionality in logistic equipment field;
TEXA wider coverage, due to capability to diagnose also light cars which Jaltest lacks of;
TEXA supports ATV diagnostic;
TEXA supports automotive diagnostic;
More functions in Truck Diagnostic;
 Jaltest vs TEXA Price which is better? 
Jaltest Full diagnostic price (CV, AGV, Marine, OHW, MHE) 16015 eur;
TEXA Full diagnostic price (CAR, Truck, Bike, OHW, Marine, lcv)  9690 eur;
Support
              Jaltest Support is faster and less complicated. Jaltest will provide you with a faster and more specific answer to any question you may have. 
Coverage by Brand
It's almost impossible to compare coverage, because each of these brands supports thousands of different models. but customers most of the time have the opinion that Jaltest supports a wider range of heavy equipment.
Easy to check coverage via Jaltest website - you can found variuos models and brands which Jaltest support also you can have an idea what kind of functionality to expect example: 
In the other hand TEXA shows which brands it support but in less details, example:
Licenses
If you bought Truck and CV license till 2022 you can't use it till you buy new license;
From 2022 you can use Jaltest Software even if you don't want to buy new updates and licenses;
License is for 12 month;
Jaltest Truck License price 645eur;
Jaltest Agriculture License price 545eur;
Jaltest OHW License price 675eur;
Jaltest Marine License price 595eur;
NOT necessary to update license, if you want to use it when it ends; 
License is for 12 month;
TEXA Truck License price 750eur;
TEXA Agriculture and OHW License price 400eur;
TEXA Marine license price 300eur;
Easy To Use
Easier to activate Expert Mode / Special Mode;
More understandable software;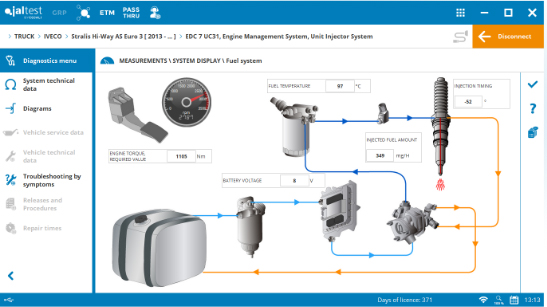 Some say TEXA software design is easier to use and

 

under

 

stand due to minimalistic design, but is it as functional as Jaltest - hard to say.
 
Manufacture
TEXA feels better manufactured, rugged feel, etc. More durable, feels heavy in the hand, and as you can see it is much bigger - is it good or bad you can decide. Also TEXA Multihub interface has screen itself which shows connection indicator and voltage.
Jaltest Link V9
Faster, Lighter, Better. 
With over 20 years and 10 iterations, Jaltest V9 Link.  A lighter slicker and more elegant design, focused on avoiding damage to the device and with the shop environment in mind, resistant and easy to clean.
TEXA Navigator TXT's
NAVIGATOR TXTs is compatible with the PASS-THRU protocol*, which allows any workshop to connect to each manufacturer's central server and download software packages or official technical information.

The PASS-THRU function can be used whenever needing to update the software on one or more electronic control units, in the event of malfunctions.
TEXA TXB Evolution
NAVIGATOR TXB Evolution is the new tool that TEXA designed and developed specifically for the BIKE and MARINE diagnosis environments.

Its hardware features make it compatible with all the current protocols for both environments and its integrated 16-pin CPC connector allows the use of all the diagnostic cables. It is extremely powerful, equipped with a 16 MBit SRAM and an 8 GBit NAND FLASH storage memory; these are very important features as they allow the mechanic to manage the map files easily.

The supported CAN standards include the CAN single wire management and an extra CAN controller for the diagnosis on more than one network.
 TEXA MultiHub
TXT Multihub is the new tool that TEXA designed and developed specifically for the Truck and Trailer / Construction / Agriculture.
Multiple Platform Flexibility - our configured laptop.
Cost effective optional update subscriptions
NO skip penalties for missed updates
Fast Multi-System Scan with DTC Report and broadcast DTC Clearing Capability
Data graphing
Multiple, customizable data lists can be saved for quick acquisition of key data that YOU want to see - now you no longer need to customize your data each time.