5 Reasons To Get An EV Charger
27 Jun

0 Comment(s)
2657 View(s)
With around 80% of electric vehicle (EV) drivers charging their cars at home, installing a home charging point is evidently worthwhile! If you have a longer commute or need to regularly drive long distances, then you will want to install a dedicated 240 volt EV charger at home. But what is a home charging point and what are the perks of installing an EV charger? BALTICDIAG specialist researches bring 5 reasons why to get an EV Charger:
Convenience. 
Safety.
Charge your Car From Green Energy.
Faster Charging.

Perfect Blend Between Technology And Design
WHAT IS AN EV HOME CHARGING POINT?
Similar to topping up the battery life for your EV from a public charging station, a home charging point simply involves charging your car from the comfort of your own home.
You can charge your electric vehicle from your home via one of two ways:
By making use of the slow charger provided with the EV. This process uses a standard 3-pin plug to take power from your domestic supply.
Installing a wall charging point on the side of your house or in a garage. This standalone EV charger is wired directly into your domestic electricity supply.
WHY YOU SHOULD GET AN EV CHARGER?
1. High Convenience
Topping up your electric vehicle at home is a stress free perk of EV ownership. By installing a home EV charger you have more control over when you can charge your car and for how long. Gone are the days of having to leave early for work to fuel up. Or having to use your Satnav to find the closet petrol station. Now, you can simply charge your car outside your front door. 
Compared to the standard public chargers, home EV Chargers charge a lot quicker! It typically takes 4 to 6 hours to fully charge an electric car using a Level 2 charger (mounted wall chargers that possess around 240 charging volts). With home EV charging there is no waiting around a public charging point for hours. You can simply leave your car plugged in overnight while you sleep and wake up to a fully charged car!
2. Safety EV Charger
Keeping your EV at home is safer for both you and your car. Charging your EV in a public space can take a while (as previously mentioned). While your EV is topping up at a public location such as a parking lot, your vehicle is exposed to risks including theft, vandalisation, and natural elements such as hailstorms. Topping up your Electric vehicle in the comfort of your own home helps avoid all these potential dangers.
24 safety monitoring items
Hardware + software dual protection
Charger failure below 1%
Unexpected charging interruption below 0.1%
3. Charge your Car With Green Energy.
Modern home charging points such as Solar or Wind Energy. This means instead of paying for dirty energy from the grid, you can charge your EV on your surplus green energy! As long as you have a system installed of course. Charging your electric car at home with solar or wind power is one of the most cost-saving and green solutions available. Nonetheless, if you don't have a renewable energy system installed there is no need to worry. There are other ways to reduce your carbon footprint. With a home EV charger, the power is in your hands, and you can choose a green energy tariff to provide power to your home and your EV!
4. Faster Charging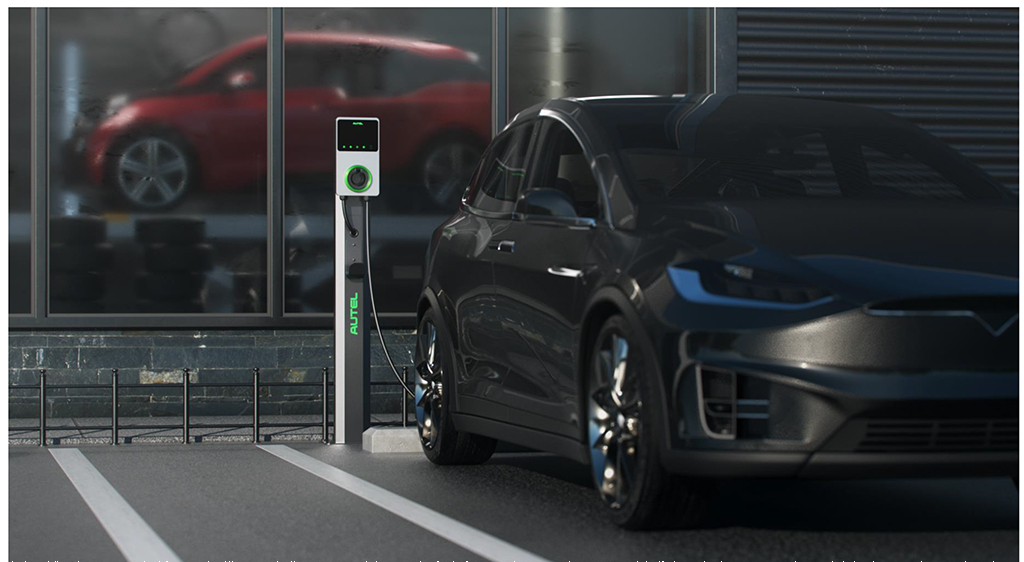 You don't need to wait for a public charging point to become available, and home chargers for electric cars can often be faster than public chargers – especially if you opt for a Level 2 charger.
Thanks to the new MaxiCharger AC Wallbox, recharging your electric vehicle will be simpler, safer, and more efficient than charging it with a normal domestic socket.
MaxiCharger AC Wallbox is 480kW Fast Charging with Dynamic Power Allocation; Liquid cooling Cable, max. current 500A per plug; Can
charge up to four vehicles in parallel, >95% high efficiency, new design of power module topology, new materials of silicon carbide.
5. Perfect Blend Between Technology And Design
The new MaxiCharger AC Wallboxes by Autel is the perfect match of design and innovation and represent a great example of pure technology. Available in different colors, they suit all environments. We have created a concept that is excellent both for domestic and commercial use.
EV Chargers integrate perfectly with the environment thanks to the choice of five elegant and stylish colors.

MAXICHARGER AC WALLBOX
AC Wallbox creates smart charging systems that combine innovative technology with outstanding design. Our intelligent charging solutions allow communication between vehicle, network, building and charger and make charging electric vehicles smoothly and easily. We offer chargers for easy home charging as well as public charging points to make the switch to fully electric.
---
WHY CHOOSE MAXICHARGER AC?

Leakage current detection 
TypeB RDC Functions: 30mA AC + 6mA DC Detection
Safety protection circuit  
Surge protection

Can be controlled by RFID Card
Autel MaxiCharger support Bluetooth et Wi-Fi, 4G and Ethernet connection
Industry-leading thermal performance even in extreme environment and high performance thermal insulation material
Perfect for Indoor & Outdoor usage
Autel EV Charger has built-in Active Load Management and Dynamic Load Balancing Technology module to optimise charging experience.
 Extend the battery life significantly
20% LONGER life span expected
 3-year unconditional warranty.
Customer service departments are available through the whole Europe
Why choosing MaxiCharger AC Wallbox
KEY FEATURES
Constant technological progress in sustainable mobility is rapidly expanding across Europe. One of the leading challenges these days is to guarantee more and more widespread charging points for electrical vehicles. This is the main reason that pushed Autel to launch its own personal line of wallboxes, innovative devices that support quick and safe charging for EVs. Discover one of our models for domestic and commercial environments: the Maxicharger AC Wallbox.
---
Complete control with
MaxiCharge App 
for Android and iOS
Managing your Autel MaxiChager AC Wallbox will be child's play thanks to our Autel MaxiCharge app.
You will be able to keep monitoring your MaxiCharger AC Wallbox, checking the charge status of the vehicle and programming many functions, directly from your smartphone.
Download it from the Google Play Store or from the Apple App Store.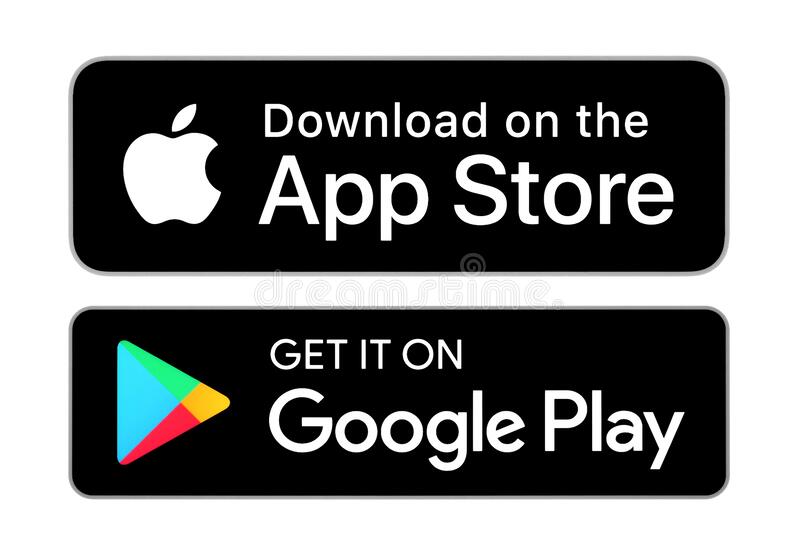 ---
MaxiCharger is always connected
Stay connected and monitor the functions of your MaxiCharger AC Wallbox. You can choose between two types of connectivity. The first one: you can insert the SIM card of your favorite telephone service through a convenient side slot
The second one: you can connect the device directly to your domestic or commercial line, through a Ethernet RJ45 port. Two features to make the most of the full potential of MaxiCharger Ac Wallbox.
---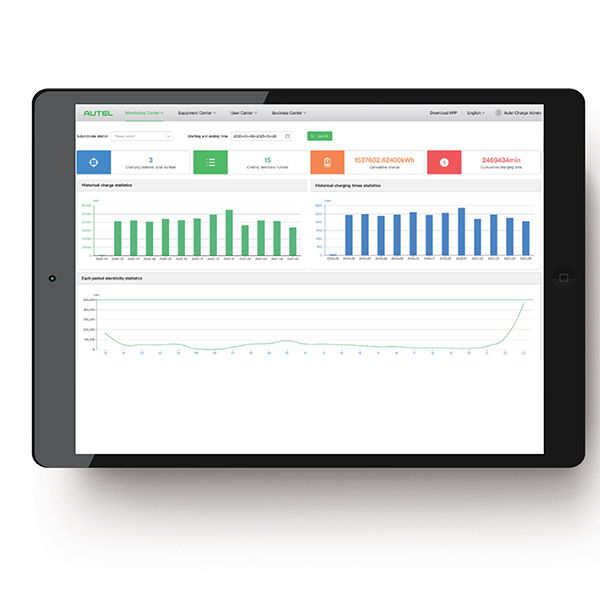 S O F T W A R E
Charging Management Software
With our one-stop SaaS solution, you can manage your charging network easily, intelligently and insightfully. 
Optimize your EV charge routine 
Receive notifications when charging is completed.
Control your smart home charging 
Track your EV battery health while charging
A P P 
Support Every Step of Usage
Autel Maxicharger App is a unique EV charging platform, providing you the ability to manage and control multiple chargers.
Start and end charge process remotely
Installation Guide Video
Set Price: charging price settings 
Notifications, Charge History, etc.
---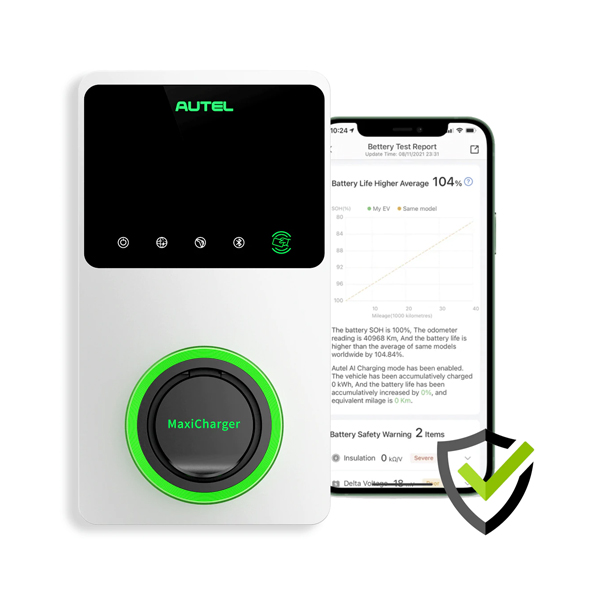 Use APP to track, manage, and optimize EV charging
Mobile App
1. Optimize your EV charge routine to complement your lifestyle & energy tariff. Start, stop, schedule charging remotely.
2. Receive notifications when charging is completed.
3. Control your smart home charging unit via Autel Charge App.
4. Track your EV battery health while charging.
MaxiCharge Charging
Management Software
With our one-stop SaaS(Software as a service) solution, you can manage your charging network easily, intelligently and insightfully. Our charging management software lets you track and manage your charging network right from your smartphone or computer.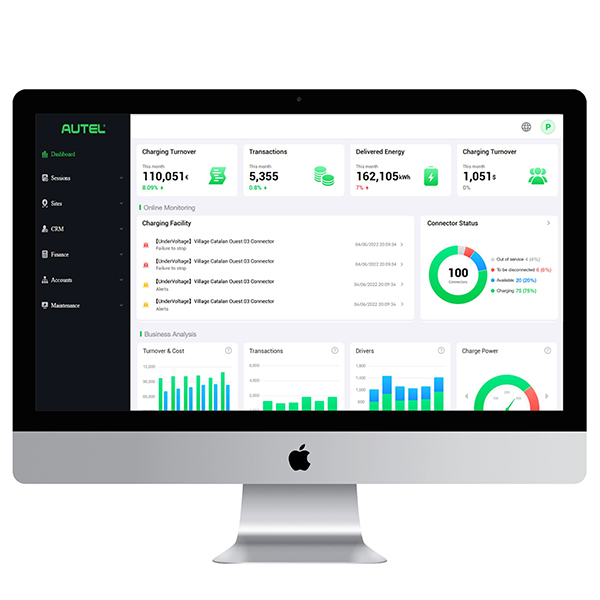 EV CHARGERS – LET US HELP TO CHOOSE
Input/Output power rating and current:
If the charger is single phase 7kW, the calculation is: 230V* 32A=7.360kW
If the charger is three-phase 11kW, the calculation is: 230V* 16A*3=11.04kW
If the charger is three-phase 22kW, the calculation is: 230V* 32A*3=22.08kW
 
Possible Colors:
Rose Gold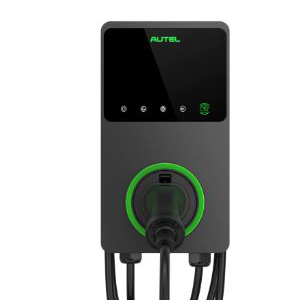 Dark Grey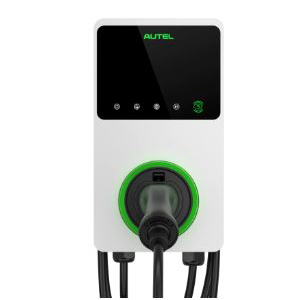 White
Silver
Feature:
Socket
Tethered 5m